These days I am quite glued to watching TLC channel so much, that it has become my default channel now. I watch almost everything that gets aired on the channel, even the re-runs. Most of them are cookery shows, or reality contests on cooking such as Chuck's day off, Everyday exotic, The big food truck race, Family food fight, Ultimate Cake off, Fabulous cakes etc. The only show that I usually skip watching is the "Tattoo" show. I absolutely love the travel shows they air and can watch them for hours.
I've always loved watching cookery shows. I remember when the first such show was aired on Zee tv. It was "Khana Khazaana" by Sanjeev Kapoor. I was a kid and simply loved watching the way he used to cook, the utensils, the sight of the food being cooked. Funny thing is, I don't enjoy cooking that much. I hardly ever note down any of the recipes and even forget the dishes as soon as the show gets over.
Anyways, so coming back to now, even though I don't follow any particular schedules in any of the TV shows, these days I've been religiously following the show "Nigellissima" on TLC - India channel, where celebrity cook, food and recipe book writer Nigella Lawson showcases some of her Italian recipes. I absolutely love watching her cook the food and talk about it. The whole set up, her personality, her voice, the way she speaks and her aura in whole makes the show so magical, that you simply want to sit, relax and watch her. The show is aired daily on TLC channel from Monday to Friday at 10 pm, but I generally watch the re-run next morning at 10 AM.
Usually the show is followed by any of the old episodes of "Nigella Express" or "Nigella Feasts", and I love to watch them as well. As Nigella says, cooking food is therapeutic for her. For me, watching her cook is kind of a therapeutic activity, as for the whole one hour I sit in front of television, and mentally get transported to her kitchen, cooking the delicious meals with her. One reason that I think makes watching the show so relaxing might be that Nigella mostly cooks what you call "Comfort food". Her recipes show lots of butter, chocolates, deep fried stuffs, which I know I'd not make in anyway. Just watching the chicken breast sizzle in hot oil, chocolate sauce dripping on fluffy, spongy chocolate cake and a whole can of Hazelnut-chocolate paste going into a dish makes the view luscious enough.
To all this add the gorgeous
Nigella Lawson
with her awesome makeup, long lashes and dreamy voice - you are set to feel good no matter what.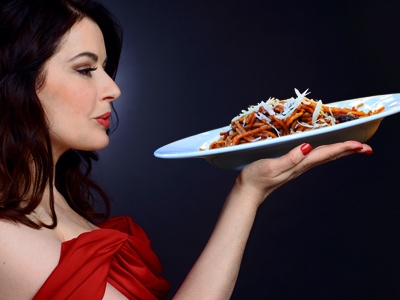 Do you follow her shows? Do let me know any of your favorite recipes that you've taken from her shows and tried it. :)
Related Articles
Tips to Help you Bring Romance in your Marriage
Quintessential Video (courtesy Taj Hotels)
10 things to do, to overcome depression mood swings